Every Detail You Need for Your Perfect Wedding Celebration
Your Fairview Acres Event comes with EXCLUSIVE access to all of our beautiful spaces, including The Wedding Barn, The Grain Bin, The Ceremony Cross, and COMING IN 2024 a new space, The Corn Crib (details coming soon).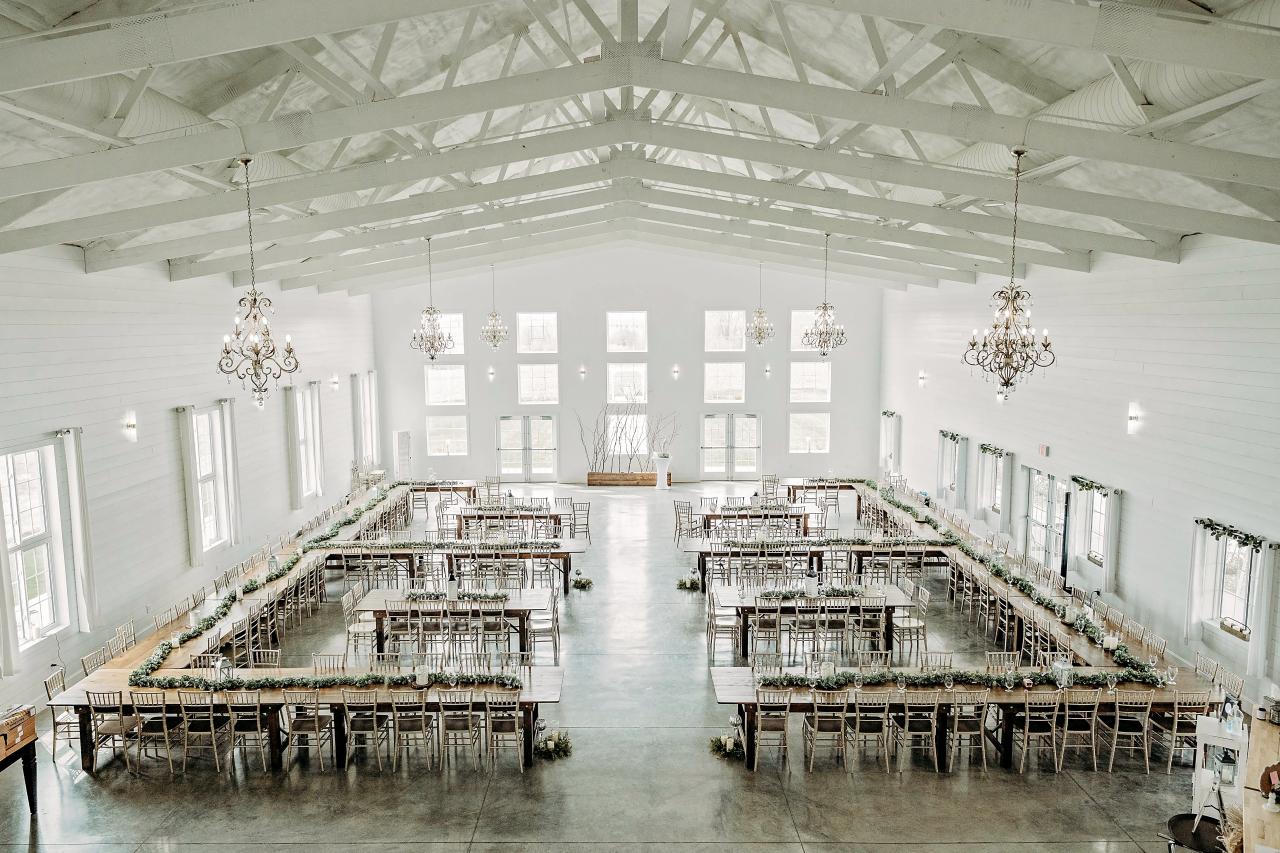 The Wedding Barn
Stunning and spacious! The Wedding Barn offers everything you need for a beautiful barn wedding celebration!
Bridal Lounge
Relax and prepare for your big day in our two-story bridal lounge! The bridal lounge is beautifully furnished with plush seating, elegant lighting fixtures, and high-end finishes, creating a sophisticated and refined atmosphere.
Bridal Party Break Room
Take a breather and enjoy some refreshments with your bridal party in our Bridal Party Break Room! The break room is equipped with comfortable seating, a mini-fridge, a coffee bar and other amenities to help the bridal party feel pampered and loved.
Reception Area
Rustic meets elegance in our beautiful reception area. Under the soaring 20-foot-ceilings and exposed beams, you'll enjoy the open and airy feel as you celebrate your special day!
Overall, the wedding barn at Fairview Acres Barn is a truly exceptional space that has been thoughtfully designed to create an unforgettable experience for everyone involved in your special day. With its spacious and glamorous interiors, it is sure to make a lasting impression on all who attend.
The Grain Bin
Bridal Party Dressing Lounge
You'll have plenty of room on wedding day – you and your bridal party! Take advantage of our one-of-a-kind Grain Bin Dressing Lounge. It is a perfect area for your bridal party to put on their best and enjoy catching up!
Overnight Accommodations for Up to 10!
The Grain Bin also serves as an unforgettable AirBnb for up to 10 guests. We invite your besties to party all night and crash in the Grain Bin!
Incredible Amenities
 Pool Table, Dart Board, 2 TVs with Fiber Internet, Wine Barrel Game System with 60 old-school video games, Board Games, Putter Golf Games, Bag Sets (Corn Hole), Bluetooth Speaker System, Onsite Shower, Steamer for Suits, Suit Rack, and more!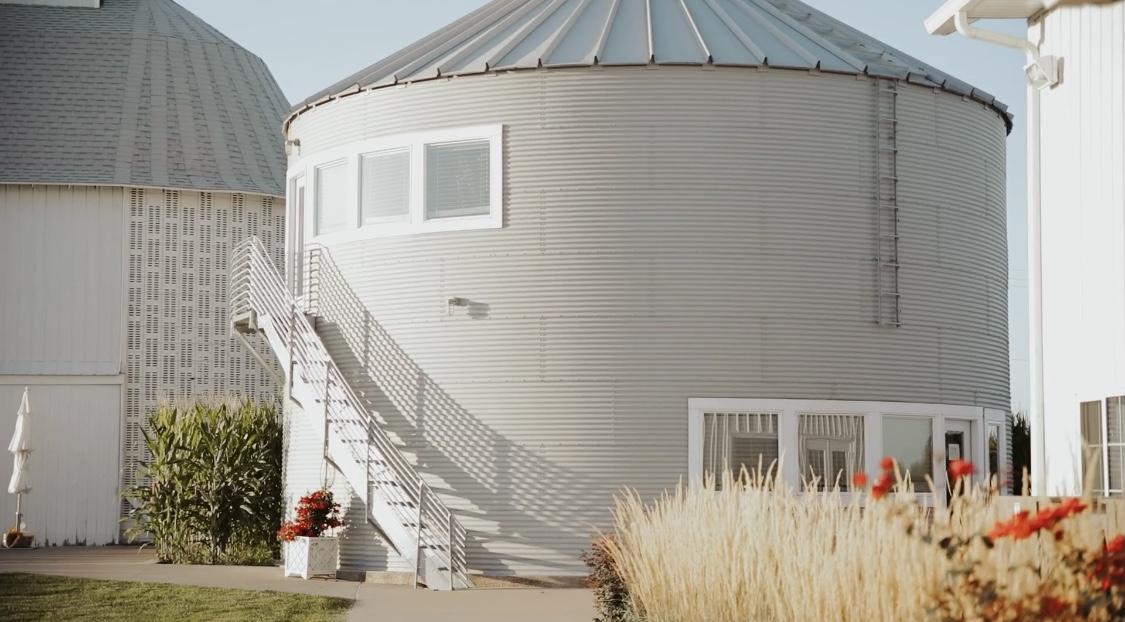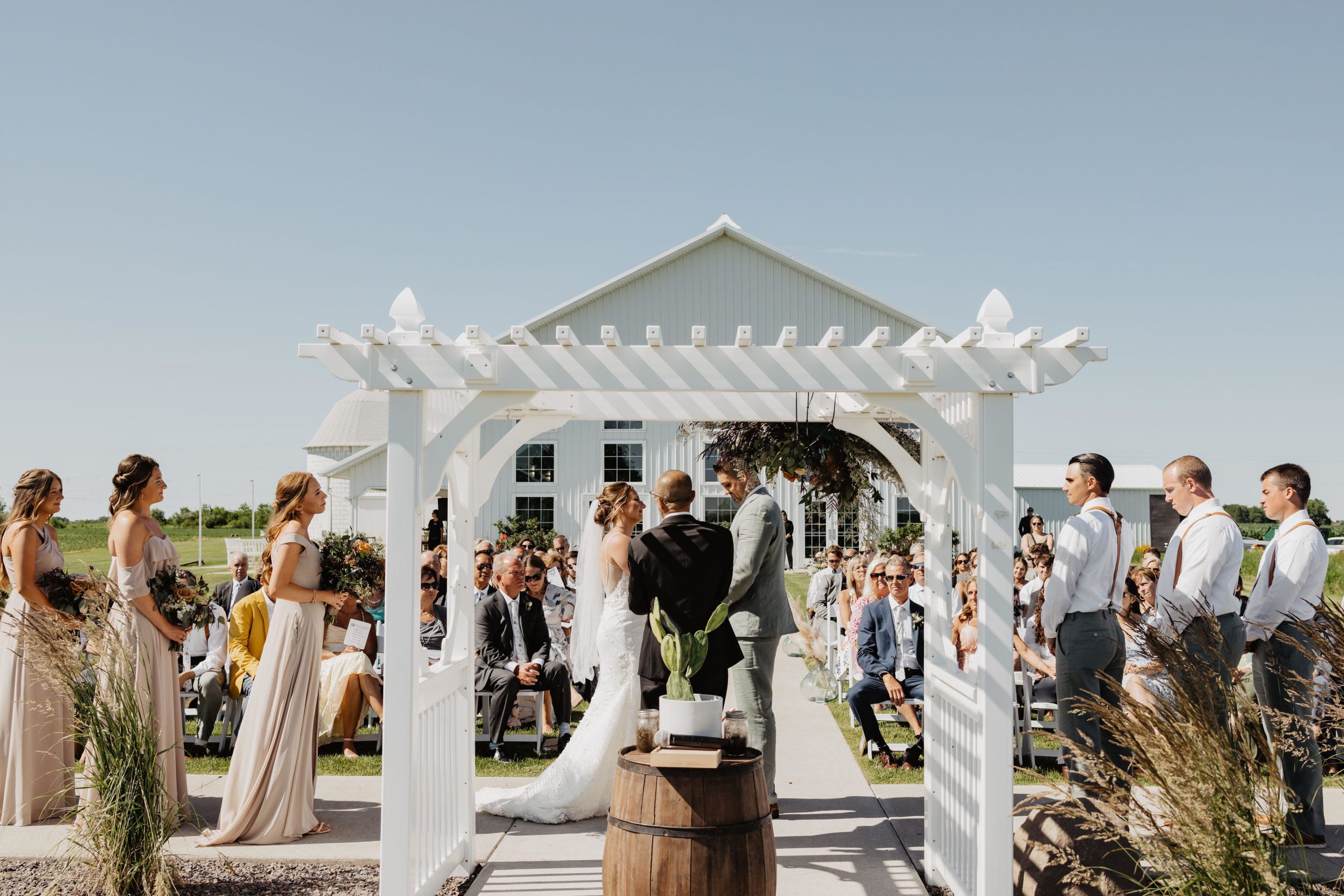 The Ceremony Cross

Meet your beloved atop the 100-foot concrete cross. Exchange vows in front of your loved ones surrounded by the natural beauty of the countryside.
Elegant white wedding chairs and a beautiful arbor set the perfect stage for your special day.
Add your special touches to create your own unique ceremony – a unique design suited to your own distinct love story!
The Ceremony Area at Fairview Acres Barn is a truly magical place, where dreams are made and memories are created. It's the perfect setting for the most important day of your life, and we just know that it will take your breath away.
Our packages all include everything you need to have your perfect day at Fairview Acres!
Exclusive Access to the Estate Including:

Wedding Barn
Grain Bin
Courtyards
Corn Crib*** (coming 2024) 

FREE Photobooth with Your Booked  Event
Incredible Fairview Acres Decor Service

VIP Access to the Decor Shed, our Curated Collection of hundreds of items
Over $22,000 of decor options FREE with Your Booked Event
Decorating DONE FOR YOU! Choose your decor and our team will take care of the rest!

Award Winning Service Team including

Greeters
Hosts
Bartenders
Coordinators
Cleaning Crew
Our staff becomes your SQUAD so you know everything is being attended to with the utmost attention and care

Professional Wedding Planning Assistance

4 Hours of Wedding Coaching FREE
Day of Coordination INCLUDED
Wedding Timeline Development DONE FOR YOU

VIP Check-In/Check-Out

Hands-free Decor Setup by the Fairview Acres Team
Hands-free Checkout

End of Night Packing Service So Your Mementos are Easy to Collect in the Morning
All cleaning of the venue is INCLUDED

Transportation Services

Shuttle for OFF-SITE photography locations
Guest Shuttle for up to 14 wedding party and immediate family members

Other Fairview Acres Perks

Coffee and Electrolytes provided
Bathrooms dutifully appointed with guest provisions
"Wedding Emergency Kit" available for your use
Find your perfect package for an unforgettable Fairview Acres fairy-tale wedding!
Friday AM Rehearsal Included
Access the Farm from 8:30 am – 10:30 pm
All of our Award Winning Inclusions 
$7,950
Saturday AM Rehearsal Available
Access the Farm from 8:30 am – 11:30 pm
All of our Award Winning Inclusions
$8,950
Access the Farm from 8:30 am – 11:30 pm
Two Overnight Stays in The Grain Bin
Sleeps Up to 10
All of our Award Winning Inclusions 
$19,080
Ask About Our Overnight Stay
The perfect Airbnb for your wedding weekend, the Grain Bin sleeps up to 10 of your favorite family or wedding guests! It also includes some amazing perks as well – take a look below!
Overnight Stay in the Grain Bin
Grain Bin Inclusions

Pool table
Dart Board
2 tvs with fiber internet
Wine barrel game system with 60 old school video games
Board games
Putter golf games
Bag sets (corn hole)
Bluetooth speaker for your use
Onsite shower
Steamer for suits
Suit rack

 
Late Night at the Farm

Courtyards
Fire pits
Yard Games
Outdoor Speakers
Enhanced Bar Service

Get an additional hour of open bar when you choose the 3 hour open bar package

NEW Bar Cart service to your guests outside during cocktail hour added for any Open Bar package
Wedding Planning Cost Savings
How to Save Money on Your Wedding By Choosing the Barn at Fairview Acres
As wedding budgeting experts, we've compiled a list of amenities along with their market value to provide insight into the potential costs of a wedding. Our carefully selected money-saving inclusions are specifically designed to alleviate the financial stress associated with planning a wedding. We've bundled these amenities together and incorporated them into each of our packages to ensure maximum value for your money. Our ultimate aim is to showcase the value of our amenities and packages, and ease the financial burden of planning a wedding.

The tabs below indicate the included amenities that come with our packages. 
Pre-Arrival Services
Wedding Day Services
Ceremony & Receptions Services
Guest Entertainment
Decor
Pre-Arrival Services
| | |
| --- | --- |
| Money Saving Amenity | Time Savings  |
| Check in with vendors to ensure correct arrival time | 1 hour |
| Consultation, planning sessions, problem solving before event  | 4 hours |
| Prepare selected decor items | 1 hour |
| Stage the great room area for your entrance, without decorating it | 1 hour |
| Arrange the ceremony area for your entrance, without decorating it | 1 hour |
| Produce a slideshow for your event | 1 hour |
Wedding Day Services
Ceremony & Receptions Services
Guest Entertainment
Decor