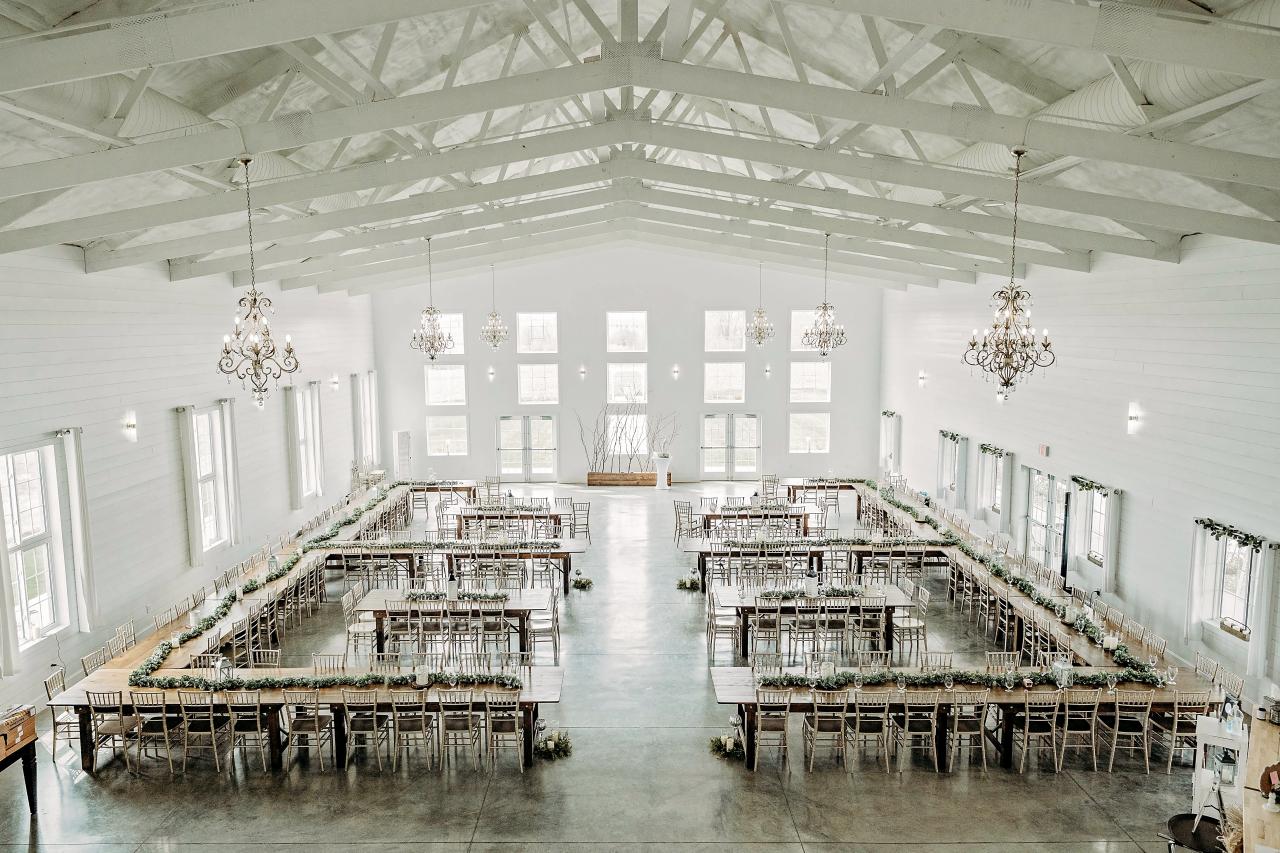 The Wedding Barn
The wedding barn at Fairview Acres Barn is a stunning space that exudes both spaciousness and glamour. The two-story bridal lounge, located on the upper level, offers an ample and luxurious space for the bride and her entourage to relax and prepare for the big day. The lounge is beautifully decorated with plush seating, elegant lighting fixtures, and high-end finishes, creating a sophisticated and refined atmosphere. Adjacent to the bridal lounge is a spacious bridal party break room, perfect for taking a breather and enjoying some refreshments before the ceremony. The break room is equipped with comfortable seating, a mini-fridge, a coffee bar and other amenities to help the bridal party feel pampered and loved.

As you make your way down to the lower level of the barn, you'll find an expansive reception area that is both rustic and elegant. The upper story of the barn features soaring ceilings and exposed beams, providing an open and airy feel that is perfect for hosting a large gathering.
Overall, the wedding barn at Fairview Acres Barn is a truly exceptional space that has been thoughtfully designed to create an unforgettable experience for everyone involved in your special day. With its spacious and glamorous interiors, it is sure to make a lasting impression on all who attend.
The Grain Bin
Oh my goodness, you are going to absolutely love The Grain Bin at Fairview Acres Barn! This stunning venue is truly one-of-a-kind, as it has been expertly retrofitted to serve as a luxurious space for the bridal party to get ready on the big day, as well as a place for up to 10 guests to stay overnight!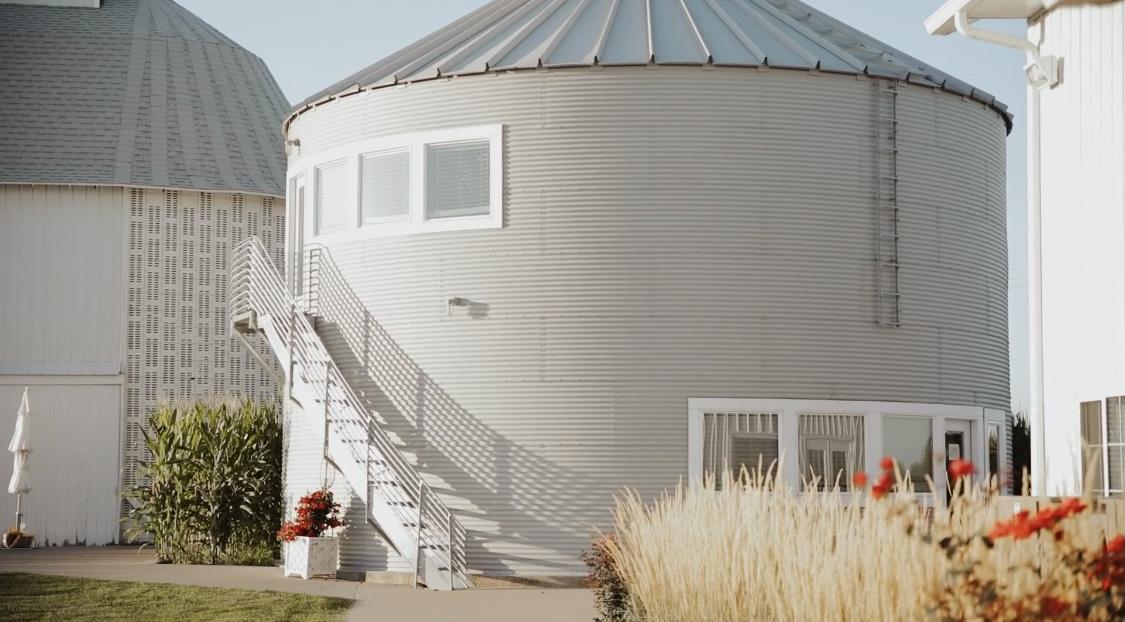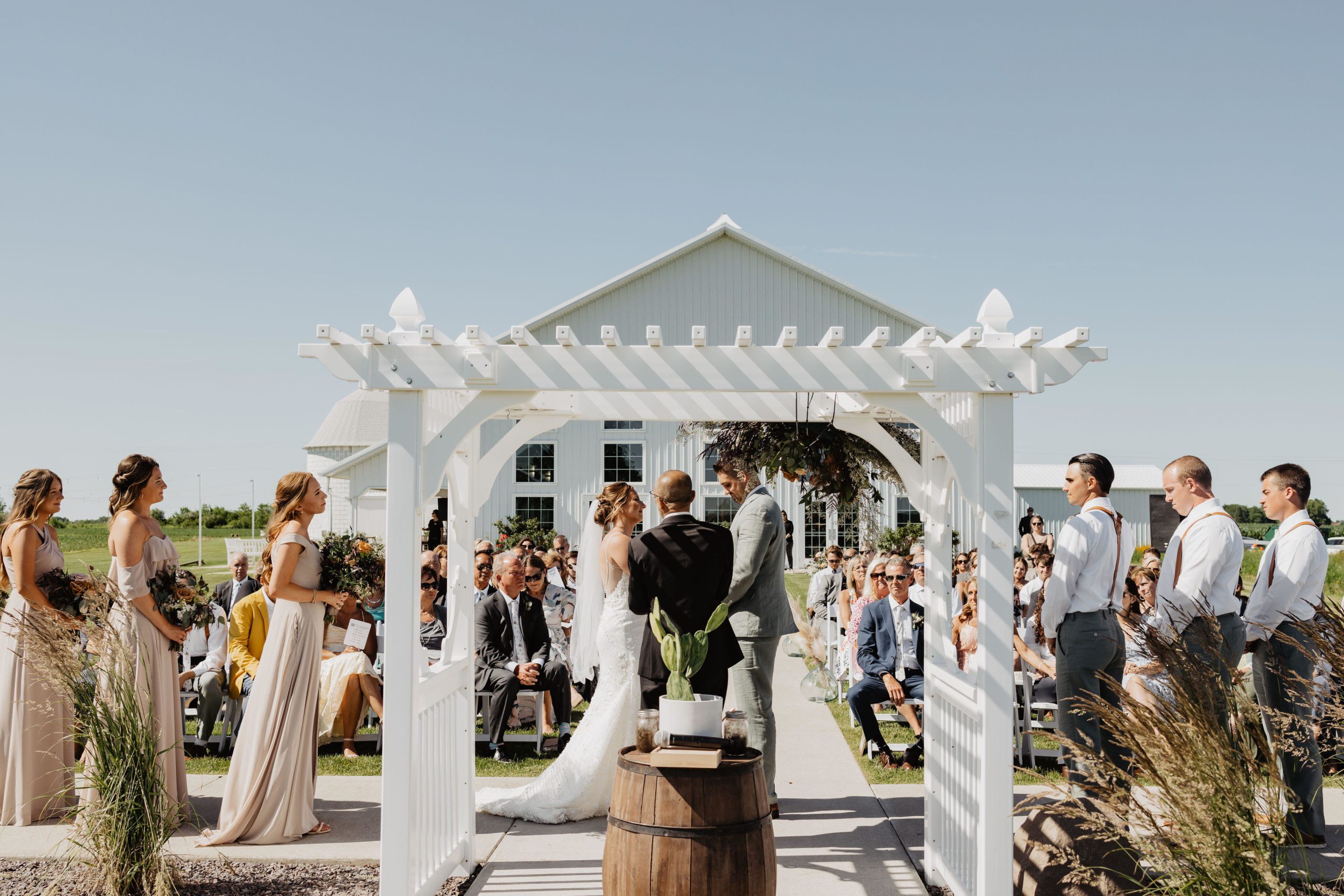 The Ceremony Cross

Oh, the Ceremony Area at Fairview Acres Barn is simply breathtaking! Imagine standing atop a 100-foot concrete cross, exchanging your wedding vows in front of your loved ones, surrounded by the natural beauty of the countryside. It's an experience that is truly awe-inspiring.
The Ceremony Area is designed with the utmost care and attention to detail, featuring elegant white wedding chairs and a beautiful altar that sets the perfect stage for your special day. And the best part? It's a blank canvas, ready for you and your guests to create the perfect ceremony that truly reflects your unique love story.
As you stand on the cross, gazing out at the stunning landscape, you can feel the love and support of your family and friends surrounding you, cheering you on as you start your journey together as a married couple. It's a moment that you will cherish for the rest of your life, and one that will be forever etched in your heart.
The Ceremony Area at Fairview Acres Barn is a truly magical place, where dreams are made and memories are created. It's the perfect setting for the most important day of your life, and I just know that it will take your breath away.
As wedding budgeting experts, we've compiled a list of amenities along with their market value to provide insight into the potential costs of a wedding. Our carefully selected money-saving inclusions are specifically designed to alleviate the financial stress associated with planning a wedding. We've bundled these amenities together and incorporated them into each of our packages to ensure maximum value for your money. Our ultimate aim is to showcase the value of our amenities and packages, and ease the financial burden of planning a wedding. The tabs below indicate the included amenities that come with our packages. 
Decor
Pre-Arrival Services
Wedding Day Services
Ceremony & Receptions Services
Guest Entertainment
Decor
| | |
| --- | --- |
| Money Saving Amenity | Market Rental Value |
| 1 Wood cake table | $125 |
| 1 Wood gift table | $125 |
| 1 Wood guest sign-in table | $125 |
| 10 Cocktail tables | $90 |
| 10 Cocktail table linens | $90 |
| 3 Sweetheart tables | $285 |
| 8 Upholstered chairs | $160 |
| 1 Large "Mr. & Mrs." lighted sign | $100 |
| 300 Champagne Chivari Indoor Chairs | $1950 |
| 300 White Ceremony Chairs | $975 |
| 1 White church pew seat | $200 |
| 10 Round table linens | $50 |
| 28 Wooden farm tables (9′ each) | $2240 |
| 12 Black table stands for floral display | $60 |
| 12 Gold table stands for floral display | $60 |
| 6 Large black pillar floor stands | $48 |
| 84 Battery operated taper candles | $250 |
| 140 Battery operated pillar candles | $700 |
| 300 mason jars | $300 |
| 36 Wood rounds  | $216 |
| 84 Lanterns | $250 |
| 120 Strands of faux greenery | $480 |
| Pampas Grass | $200 |
| 100 Table runners | $400 |
| 140 Fairy lights | $196 |
| 50 Bud vases | $50 |
| 140 Wine bottles | $210 |
| 2 Large white dessert/champagne towers | $140 |
| 13 Chalk board signs | $52 |
| 25 Various wedding signs | $75 |
| 3 Unique card "Boxes" | $15 |
| 3 Apple crates, 100 white pumpkins, pine cones | $300 |
| 10 Shepherd hooks | $50 |
| 6 Up lights / spot lights | $90 |
| 90 Candle holders taper and pillar | $900 |
| Flower girl baskets & Ring bearer pillows | $40 |
| 10 Candelabras | $500 |
| 5 Large & Medium sign stands and easels | $200 |
| 40 Dessert stands | $80 |
| 50 Galvanized rectangular table decor | $320 |
| 5 Unique indoor display backdrops | $750 |
| 1 Large greenery wall | $150 |
Pre-Arrival Services
Wedding Day Services
Ceremony & Receptions Services
Guest Entertainment